The story of Brimpts Beef
Full of flavour from cattle reared on heather-clad moors and fattened in the lush pastures of Devon's heartland, our Beefboxes give everyone the opportunity to savour prime dartmoor beef, traditionally reared, direct from the farm.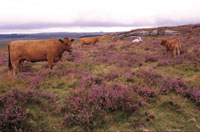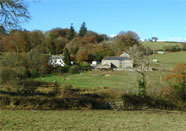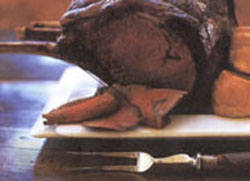 The herd is bred and reared at Brimpts Farm, an ancient Duchy tenement which lies on a sheltered plateau in the beautiful valley of the East Dart. Here, where sheltered fields sweep down to the river and climb behind the farm to the moor above, Andy Bradford's prime South Devon cattle spend the months between haymaking and late spring. Summertime sees them ranging free in Brimpts large moorland newtake enjoying the wide variety of nutritional grasses and heather which flourish there.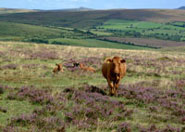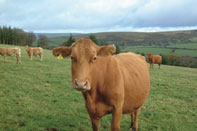 A warm chestnut in colour and noted for the quality of their meat, the placid nature of the South Devon breed makes them the gentle giants of the bovine world. Two fine bulls run with the breeding heifers and calves feed from their mothers for about eight months before gradually being weaned.

A recent addition to the herd is a young red Aberdeen Angus bull which is running with selected heifers on pastures near Ashburton. By 'marrying' the best of Scottish with the best of English breeding stock the flavour and quality of our Beefboxes will be assured for years to come.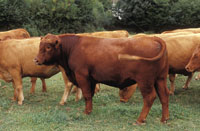 Historically, animals bred on Dartmoor need the lusher grasses and milder climate of lowland Devon to gain weight and fatten. The male calves and those heifer calves not selected for breeding by Andy's experienced eye, then make the short journey to Swannerton Farm, near Crediton in mid-Devon. Here, still in sight of Dartmoor, they spend the next eighteen months and, in meadows rich and sweet with clover and herbs, they grow to maturity, cared for by Jim Stephens, a farmer with a lifetime of skills in the traditional ways of 'finishing' cattle and sheep. Their diet is supplemented by ingredients such as home-grown barley to which a special mixture of natural minerals and proteins are added.

Jim's wealth of experience is the keynote in determining when each animal has peaked to a level which will provide meat of superior quality. Spared the stress and strain of a long journey, the selected animals travel to Lang's family-run abattoir in Ashburton a short distance away where all our meat is processed. Here, too, it is hung for two to three weeks to ensure the finest flavour and then cut and packed for our Beefboxes.

To Andy and Jim, traditional environmental farming has always been a way of life and therefore, wherever possible, only naturally evolved fertilisers are used on their land, keeping the pastures sweet and wholesome. As a livestock producer, Jim is also a member of the FABBL (Farm Assured British Beef and Lamb) scheme which means he is subject to stringent and regular inspections to ensure that everything to do with the health and welfare of his stock is of the highest standard.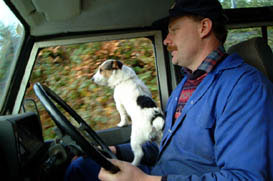 Experiences over the last few years have made everyone more concerned over where their food comes from and how it is grown or reared. The traceability of British beef such as this lies in a 'passport' system whereby each animal's movement and lineage is completely documented throughout its life.

Every Beefbox is approximately 15kg in weight. Each cut of succulent Devon beef is vacuum-packed and ready for freezing, bringing you home-reared meat at it very best - direct to your door.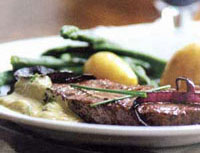 ---
Part of the main Brimpts Farm Site offering:
Conferencing . Accommodation . Corporate Activities . Group Booking Specialist
More from the heart, in the heart of Dartmoor www.brimptsfarm.co.uk